Few things are as crucial to golfing as the little golf cart that carries you around. But unless you're teeing off at a private country club, the odds are good that you'll be driving on public streets and highways before you reach your final destination.
But the question still stands if it's safe to do so. Let's explore this topic with our golf cart dealers.
Recommended Read: Go Green With Electric Bikes And Save Money
How Can I Legally Drive My Golf Cart On The Street?
The first step you need to take to drive your golf cart on the street is to check with your local Department Of Motor Vehicles to see if it is legal in your state. If it is, you will need to register your golf cart and get it insured.
Once you have done that, you can apply for a license plate from the DMV. Finally, follow all the road rules when driving your golf cart on the street.
The Road Test: How Are Golf Carts On The Streets?
You need to keep some things in mind if you're thinking of driving your golf cart on the street. First, make sure you're comfortable with the handling. Second, you need to be aware of your surroundings.
Golf carts usually have good acceleration and brakes, so if you feel confident behind the wheel, go for it.
Some Tips If You Choose To Drive Them On The Street
If you choose to drive your golf cart on the street, you should keep a few things in mind.
First, make sure that you're obeying the traffic rules. That means stopping at stop and yield signs and using turn signals when appropriate.
Second, golf carts have a maximum speed limit of 25 mph, so be sure to stay within that limit.
Third, because golf carts are smaller than cars, be extra cautious of blind spots when changing lanes or making turns.
Are There Any Disadvantages To Driving A Golf Cart On The Street?
While golf carts are street legal in some states, that doesn't mean there aren't any disadvantages to driving them on the road. For one, golf carts aren't built for speed, so you'll be going much slower than traffic flow. This can be a problem if you're trying to get somewhere in a hurry or your area has a lot of traffic. So, maybe stick to golf carts only when you have to cover shorter distances.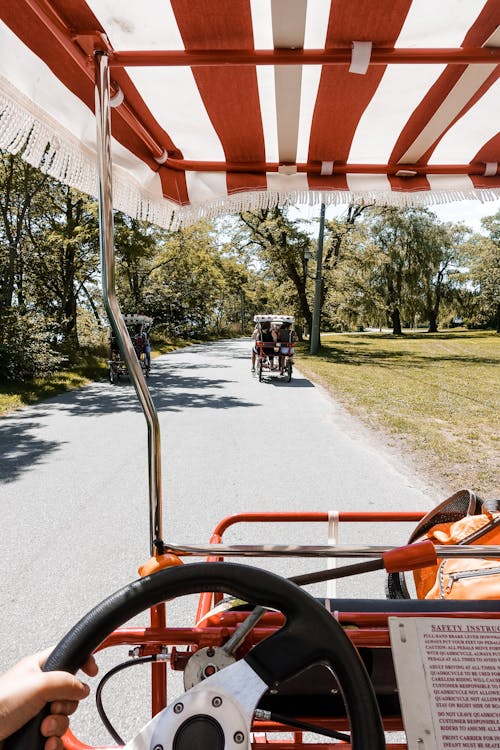 Are You Looking To Buy Your Own Golf Cart In Bonita Springs?
If you're looking to own a golf cart, you're in luck. Our golf cart dealers at SWFL Golf Carts offer durable custom-built golf carts along with e-motorcycles and e-bikes to the locals of Bonita Springs.
Contact us to know more about our products.